Noida
Junior Golf Camp At Noida Sports Stadium
Reputed golf coach and former international pro-Amandeep Johl conducted a golf summer camp for the benefit of the wards of Petroleum Sports Promotion Board (PSPB) employees from May 20 to June 3 at Noida Sports Stadium-Golf Range and Sirifort. A round of competitive golf in the mini golf course took place soon after.
During the camp, all participants got an insight into the fundamentals of the game along with an
introduction to golf-specific fitness. The two-hour golf session offered individual attention to swing techniques and was followed by the fitness session.
The clinic was initiated by KL Tejwani – Joint Secretary, PSPB, with a single objective to help improve the children's golfing skills and to bring more juniors into the fold.
Panchkula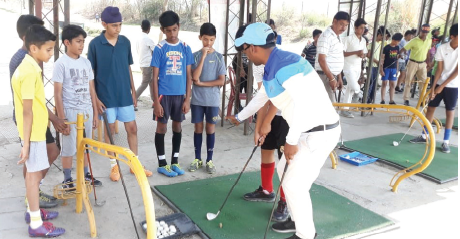 A golf training program for 43 adults and juniors was held at Panchkula Golf Club from May 20 to June 10 under the aegis of NGAI Class-A instructor Gagandeep Ghotra. Raman Kumar (Class B), Darshan Lal (Class D) and Rajinder Singh (NIS certified Fitness Instructor) were also present.
Noida
New Short Game Facility At Greater Noida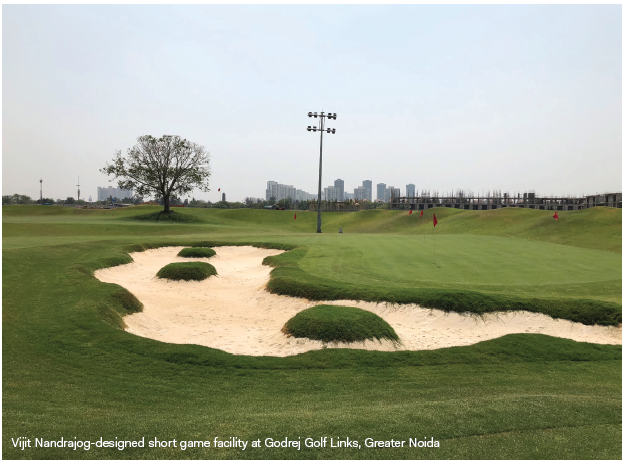 A new short game practice facility — designed by Vijit Nandrajog of Golf Design India — has opened in Greater Noida. It has been developed by Godrej Properties Ltd. for the region's Golf Links project.
The facility looks to provide golfers with comprehensive conditions to learn and practice their short games. It comprises a large putting green that features multiple slopes and undulations. A first-of-its-kind chipping/pitching practice area has been developed as well. Unlike conventional ones, this zone has chipping/pitching areas built at varied heights and slopes to provide golfers with every possible condition and lie to practice from. Overall, the facility aims to provide avid golfers with real golf-course-like conditions to play and practice in, besides helping create a friendly atmosphere to encourage beginners, ladies, and children to start learning the game in a relaxed and fun environment.
A 9-hole executive golf course is also planned for this project. It is currently under construction and is likely to be ready for play next year.
(Read more in the July issue of Golf Digest India. Download here.)