AMATEUR DIKSHA TRIUMPHS IN FINAL LEG
16-year-old Diksha Dagar completed a wire-to-wire victory after a third successive sub-par round in the final leg of the Hero Women's Pro Golf Tour at ITC Classic Golf & Country Club.
The left-handed amateur carded a round of 2-under 70 and took her three-day total to 9-under 207, winning by 11 shots over the three golfers who were tied for second place. Diksha's earlier rounds were 66-71.
Gaurika Bishnoi (71) aggregated two-over 218 with rounds of 73, 74 and 71 and was tied for second alongside Neha Tripathi (73) and the other amateur in the field, Ananya Barthakur, who struggled with a round of 78 on the final day.
Rohtak-born Gaurika Bishnoi emerged as the winner of the Hero WPG Tour Order of Merit. The 19-year-old, who turned professional only in 2016, earned Rs. 12.45 lakh in prize money. In second place was Amandeep Drall (Rs 11,28,300), followed by Neha Tripathi (Rs. 9,93,300).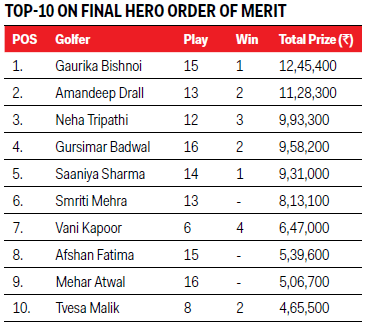 NEHA COMPLETES START-TO-FINISH VICTORY
Neha Tripathi completed a start-to-finish win by a four-shot margin despite a late charge by Order of Merit leader, Gaurika Bishnoi (66) in the 15th leg of the Hero Women's Pro Tour at The Palms Golf Club & Resort in Lucknow. This was Neha's third win of the season, after her wins in the first leg at Ahmedabad and the 13th leg at Greater Noida.
Starting the final day with a massive nine-shot lead, Neha had a rough start as she bogeyed the first but made amends with a birdie on par-3 third. However, a triple bogey on par-4 fourth threatened her chances but the fact that Gaurika, her playing partner, also double bogeyed meant less damage.
When the lead group players came to the turn, Neha was still way ahead. The 25-year-old still held an 8-shot lead, which got reduced to 4 following a brilliant fight by Gaurika.
(Read more in the January issue of Golf Digest India. Download here.)