Rory Returns To World No.1 Spot
Northern Ireland's Rory McIlroy has returned to the world number one spot for the first time in over four and half years, replacing American Brooks Koepka.
Last time McIlroy topped the rankings was on September 19, 2015, and his return marks a 1605-day gap between him leading the rankings last time and reaching the summit once again on February 10, 2020. This is his 96th cumulative week as world number one — the fourth most of any player. Only Tiger Woods (683), Greg Norman (331), and Nick Faldo (97) have spent more weeks as the world's top-ranked player.
The complicated nature of the rankings system and the past two years of consistent performances have pushed McIlroy from 0.2 points behind Koepka to 0.03 points ahead.
Ghei Falls Short Of Staysure Card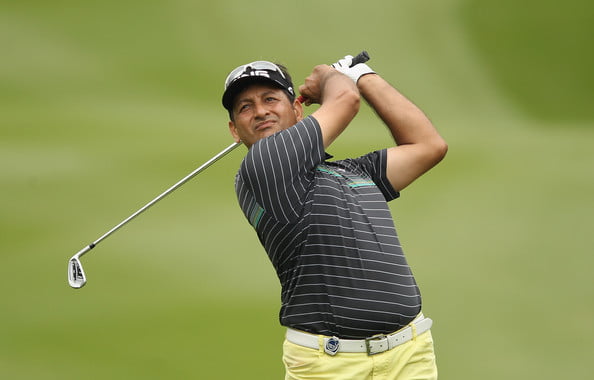 Gaurav Ghei and Amandeep Johl from Delhi Golf Club made a trip to Portugal to play in the European Senior Tour's Q-School stage 1 (January 23-24). 51-year-old, three-time Asian Tour winner Gaurav Ghei moved on to the final stage after shooting 76 and 68 for 4-over 144 and a tied-20th finish in the first stage.
The final stage at Pestana Golf Resort saw a total of 81 hopefuls fight for just five available tour cards. Ghei went on to shoot 75, 72, 68, and 71 (2-over 286) over four days to finish tied-30th. This fell well short of a chance to procure a Staysure Tour card but got him close to becoming first Indian ever to play on an International Senior Tour.
Mane's Historic Hat-trick
Pune golfer and now 10-time winner on the PGTI, 29-year-old Udayan Mane won his third consecutive event of the season at the PGTI Players Championship 2020 at Eagleton Golf Resort, Bengaluru on February 14. Mane (68-67-67-66) shot a fiery last round of 66 to be tied at the top with Veer Ahlawat (67-65-65-71) at a total of 20-under-268 after the regulation 72 holes. The two players then went into a playoff where Mane prevailed on the second extra hole to bag his 10th professional title.
Mane, who also won the last two PGTI events, the TATA Steel Tour Championship 2019 and the Golconda Masters 2020, has now become only the second player after Delhi-based Ashok Kumar to have won three consecutive events on the TATA Steel PGTI. Ashok had achieved the feat during the PGTI's inaugural 2006-07 season.
Udayan said, "This is turning out to be an unbelievable run for me. My hard work seems to be paying off. I feel I drove it better last week in Hyderabad, but this week I hit my approach shots, irons, and wedges much better.
"The crucial moments in my round were the birdie on the fourth where I gave myself a good yardage with my second shot, the par-save on the 13th where I landed my third shot from 90 yards to within a foot for a tap-in, and the all-important 12-feet birdie conversion on the 18th that took me into the playoff."
Mane earned five OWGR points for his win and moved to 241st in the world from 303rd. He is now the second-best ranked player from India, after Rashid Khan who is at 179th. They are the top contenders to represent India at the 2020 Olympics in Japan. June 22 has been set as the qualifying date for players, giving ample time to other players to catch up.
Also in the running are Shubhankar Sharma at 277, Shiv Kapur at 287, and Ajeetesh Sandhu at 332.
Asian Tour Card For Baisoya
Six-time winner on the PGTI Tour, 23-year-old Honey Baisoya earned his playing rights on the Asian Tour by finishing tied-23rd at Lake View Resort and Golf Club HuaHin, Cha-Am, Thailand.
The Asian Tour Q-School, spread over two stages, saw participation from over 480 players from 26 countries, including nine from India for 35 cards on offer.
Honey Baisoya from Delhi Golf Club shot 69, 67, 70, 70, and 72 for a total score of 7-under 348 to finish tied-23rd and earn playing rights. Other Indians in the fray included Veer Ahlawat, who finished tied-40th at 4-under 351; Yashas Chandra and 2018 Panasonic Open India winner Khalin Joshi, who both finished tied-52nd at 3-under 351; Manu Gandas finished tied-64th at 1-over 356.
PGTI & WGAI sign affiliation agreement
Two key stakeholders of Indian professional golf, the Professional Golf Tour of India (PGTI) and the Women's Golf Association of India (WGAI), signed an Affiliation Agreement on February 19 to mark the beginning of a new era for golf in India.
The agreement, which promises closer coordination between both bodies in the future as well as mutual recognition, was signed by Mr Gautam Thapar (President, PGTI), Mrs Kavita Singh (President, WGAI), and Ms Champika Nanda Sayal (Secretary-General, WGAI)
at Gurugram.

Both the tours started around the same time in 2004-2005 and PGTI now boasts of over 300 player members and WGAI just recently touched the 40-player mark.

The move has been made to provide Indian ladies golfers with more opportunities to play — through the inclusion of invites from international tours and vice-versa. Ms Champika Sayal even went on to say that soon, there might be a mixed-event featuring golfers from India and across the world too. In effect, this means a boost for the women's game as it brings their professional association in line with the significantly larger men's tour, creating opportunities for more players.
As a spinoff, it holds the potential to create new platforms and properties and consequently, wider sponsor appeal — a critical component in the plans of any professional sporting organisation.